Nowadays, cyclists can have much more stress-free and enjoyable rides thanks to a great number of mobile apps that are of great help when they are on the open road. These apps can help them navigate, plan their route in advance, and even fix their bikes.
However, the mobile app market is currently filled with a great number of apps, and it can be hard for a cyclist to choose the right one. In this article, you can find the best apps for cyclists that are available for Android and iPhone devices.
Strava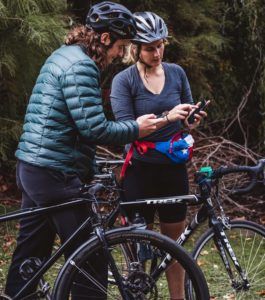 If you have a lot of friends who cycle, then you will love the Strava app, since this is a perfect social app for cycling fans. You can use Strava to keep track of your friends' activities but it can also be used as a cycle computer to upload and record all the rides that you make. With the Strava app, all of your rides over the same trails (known as segments in this app) will be automatically ranked along with a GPS map of where you've been. However, the best feature of this app remains the social aspect, which helps you follow your cycling friends, share photos of your own rides with them, or even comment on their recent activities. You can get the Strava app for free or you can pay for the premium version.
MapMyRide
Due to great route-mapping software, MapMyRide has become one of the favorite apps among cyclers worldwide. However, MapMyRide doesn't serve only to track your routes. It also keeps track of your weight, nutrition, and you can even set a destination route in advance. This app can be obtained for free, but the premium version offers some additional features like live tracking and training plans.
Bikemap
No matter if you use an iPhone or an Android device, you can download the Bikemap app that will be of great help for your navigation and route planning.
Even though it is very similar to Strava, Bikemap has more free options available. For example, you can alert other users of this app via the live update option if anything happened on your route (i.e. the road has been blocked so they know in advance not to go that way). What is more, you will have access to several million routes that have been previously generated by other users.
The premium version of this app includes a 3D map of your route and offline navigation. 
Wahoo Fitness
One of the greatest advantages of the Wahoo Fitness app is that it works perfectly with other settings and trackers on your device. It has no problem tracking the cyclist's heart rate and riding speed. You will have no problem uploading your data to Strava, TrainingPeaks, or MapMyFitness. This is a huge plus for this app since nowadays there are so many companies that guard their data and keep it only within their own ecosystems.