Let's say that you wish to start your own business, and it turns out that there are no cycling studios in the near vicinity. This already makes it a good idea for a business in your area. However, this is not as easy as it appears, considering how you will need so much more than just stationary bikes in order to attract potential users. Luckily, almost all the things you need for a cycling studio will come in handy if you wish to expand. A natural move is to get a bigger space and maybe create a gym that is adjacent to the studio. Here we will go over all of the things you need in order to run this business successfully.
Ventilation
One of the main deterrents when small gyms are concerned at least is ventilation.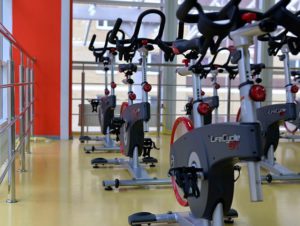 This is more important than you think because you want your users to keep coming back. Given how there will be a lot of sweat and training, especially during spring and summer, it's almost certain that the weather will be hot. Moreover, everyone will sweat and gasp for air so it's going to become stuffy really fast.
With ventilation, you can ensure a more pleasant workout session, and allow your customers to truly push themselves as they won't have to struggle to breathe.  
Layout and Spacing
The beauty of this business idea is that you can actually accommodate a fair number of customers at the same time. The key is to make sure there is enough space between the bikes, so that customers can move around, and don't interfere with someone else's workout. Approximately you can fit one bike per 1.5 square meters.
Music
You will need some quality speakers to ensure there is always music in the studio. You can play motivational workout songs and help users take their minds off peddling. This is a healthy exercise but it gets boring after just a few minutes, so the music will definitely help. Also, having company can help too, since cycling doesn't require too much concentration, the trainees can easily talk to one another to help pass the time. Meaning, don't play that music too loud, in order for them to communicate without yelling.
Decorations and Lights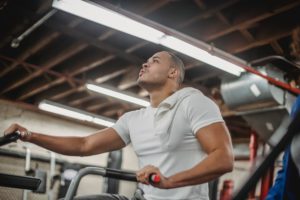 When it comes to decorations you can always rely on motivational posters, as it's pretty standard for any gym. Now having windows will help you with ventilation but bear in mind that a lot of people don't want others to look at them while they are training. So, if you are using windows, make sure it's not transparent glass. You also need to make sure the room is well lit, or otherwise, your decorations won't be visible.
Hygiene and Maintenance
Finally, you need to frequently clean the bike seats and floors. There will be a lot of sweat droplets all over the place, so try your best to ensure it smells nice. You can also get some air fresheners around the room, as it definitely helps.
This was a short overview of the essential things you need in order to run a cycling studio. Of course, you obviously need space and bikes, so these two were not mentioned. You can also add shower cabins, but that's going to be expensive, so maybe add it to the list of improvements down the line.